November 26, 2021
Graduate Wen Chen Shortlisted for Book Award
2021 GMD graduate Wen Chen describes the recognition that one of his college  projects has recently received:
My book Indoor Copenhagen was nominated for the Best Student Book category in the British Book Design and Production Awards (BBD&PA) 2021, along with 5 other students from UWE Bristol and University of Lincoln. I was the only student from UAL, which I am really proud of. I didn't win the award, but I will keep sharpening myself for the next one.

Indoor Copenhagen is a book about my Erasmus experience at KADK, Copenhagen during covid lockdown in Spring 2020. Even in the lockdown, I still managed to make 10 friends who are from different universities in Erasmus as well as my Danish classmates. With the lockdown, the only place to go is everyone's indoor spaces and this is what all the memories are built from. Furthermore, I found the Danish lifestyle 'Hygge', which means 'cosiness indoor', really similar to the indoor memories we had. I documented the memories in portraitures, illustrations of the objects and text from my friends and myself about the indoor stories we shared.

I finalised the design and produced the book at LCC in Spring 2021. During the production, I had immense support from the Print Finishing and Book Arts Workshop at LCC to experiment with a wide variety of printing techniques, such as Lithography, Risography, Thermography, Duplex and many more.

The content consists of 4 elements for the book which are the portraiture photographs, sketches, the text of the stories, and a map of Copenhagen, which are highly relevant to my experience there. The portrait is about people in their 'hygge' mood at home. The sketch is an alternative way of describing space, learnt from KADK's workshop. The written story is meant to create a conversation between participants and myself, in various languages. The map is to summarise the experience visually and structurally to tell the story in data.

This is a personal project that aims to deliver a better scenario for those who want to know the stories. With different elements, the stories can be read in various ways and interpreted  based on personal experience. I hope the book can resonate with the feeling of the good old days in every reader's heart.
See more of Wen's work here: https://www.gmdlcc.com/students/wen-chen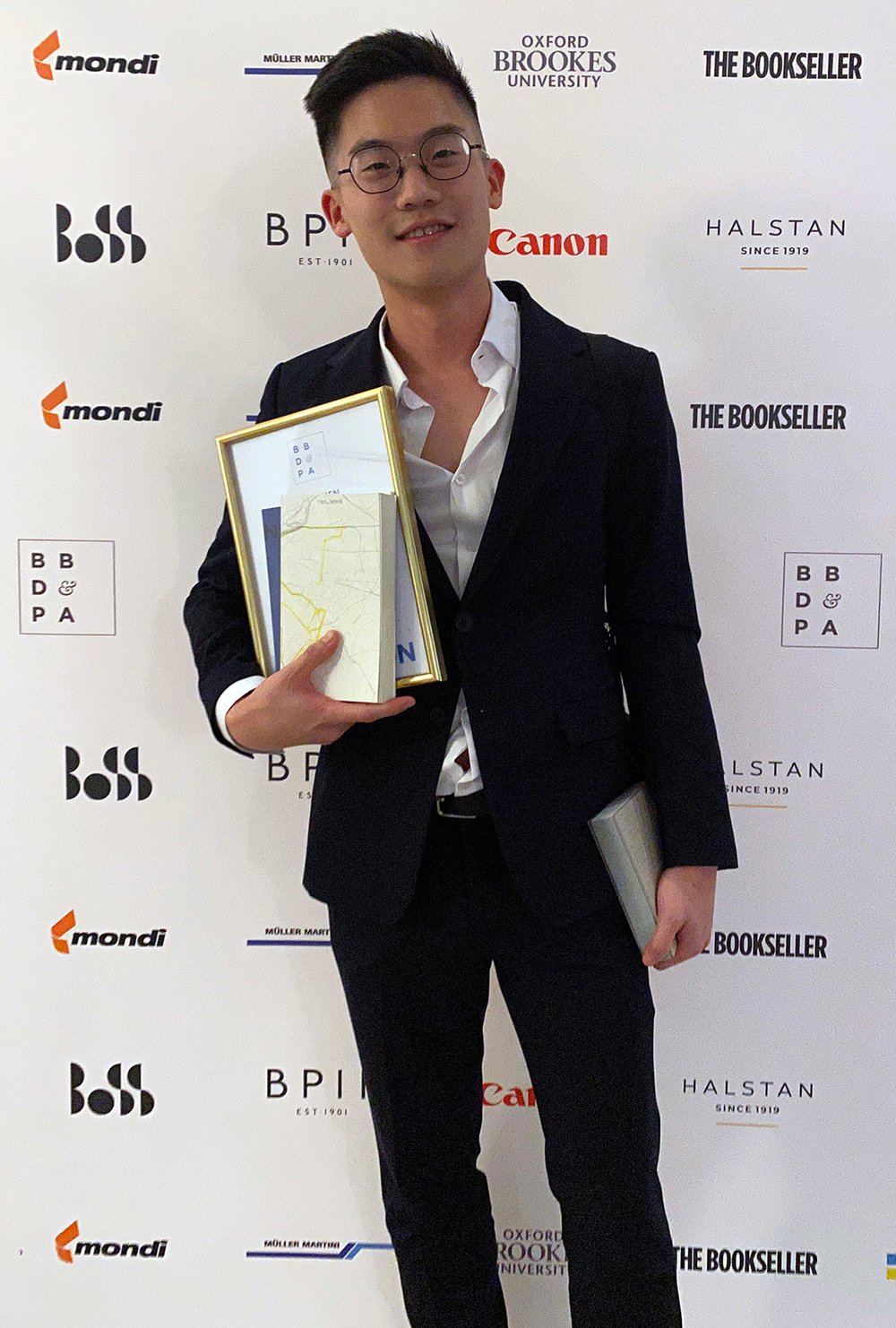 Wen with his book and certificate at the awards event.